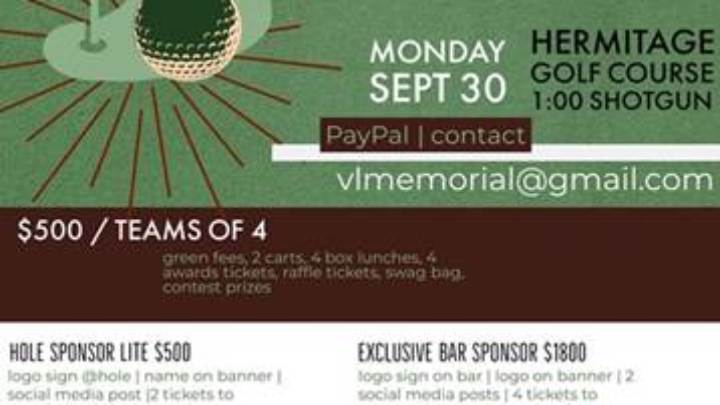 Vicki Lee Memorial Golf Tourney
Description
Because of the incredible support last year at our FIRST Annual Vicki Lee Memorial Golf Tournament, we are excited to announce we have made it to Year 2!!
Monday, September 30th, we will be hosting our 2nd Annual Vicki Lee Memorial Golf Tournament to benefit the Vicki Lee Memorial Scholarship @ Belmont University! This scholarship is committed to providing financial aid for Interior Design students with a focus on single parents or students from single parent households.
Vicki Lee was a pillar of strength and compassion in our Nashville building community & this scholarship allows her legacy to continue on lifting up our community and investing in all of our futures!
To learn more about the scholarship, our first recipient and our mission please watch our attached video and read ABOUT VL WATCH VIDEO
Follow us on Facebook @ VICKI LEE MEMORIAL FOUNDATION
We hope to see you September 30th!!
Thank you all for your love and support,
Jaci Kirkham (615)-419-6658, Brittany Earlie (615)-596-4166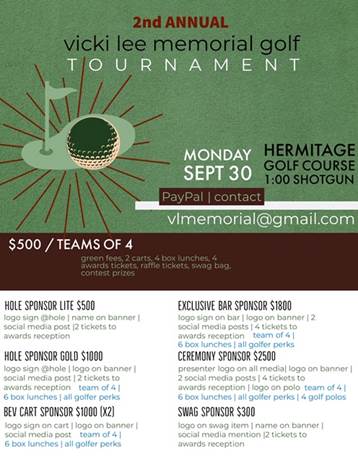 Vicki Lee Memorial Scholarship
Through her daughters, Jaci & Brittany;
The Vicki Lee Memorial Foundation was founded in 2016 in memory of a devoted single parent, spirited interior designer, and cancer survivor. The Foundation's main mission is to provide financial aid in the Interior Design program at Belmont University to like-minded individuals who exemplifies the same determination and fierce traits we saw in Vicki.

The Scholarship seeks to identify an aspiring or current Belmont University student who is following his/her dreams in Interior Design & Architecture, driven to overcome all barriers, and passionate about leaving a mark on the design community as did Vicki.
Our first recipient, Erin Akers will be graduating in the spring of 2020 with her Bachelor degree in Interior Design , made possible through this scholarship . Her story doesn't begin at Belmont but with O'More College of Design where the scholarship was originated before being acquired by Belmont University. This acquisition has allowed the program to flourish and provides student opportunities within their field of study that wouldn't be possible without the support of this prestigious institution.
Our new partnership with Belmont University has kept this fire burning and given even more passion to this mission! The University is committed to making this one of the most rewarding scholarships in the program and we are excited to see what 2019 brings!!

Her legacy lives on through her 2 daughters, 5 grandchildren, and now through the design community thanks to your contributions!
We look forward to seeing you on September 30th!!