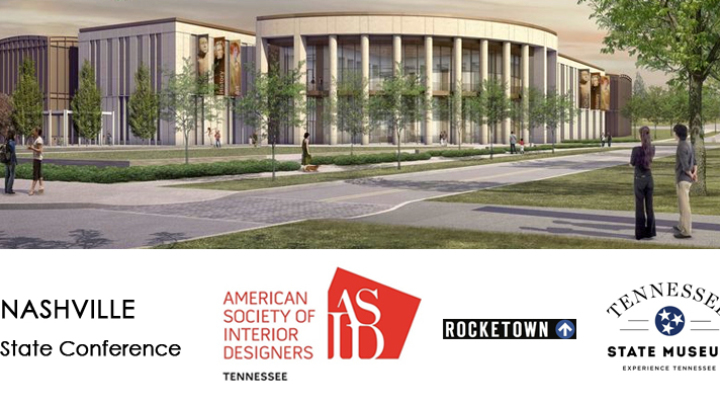 ASID TN State Conference 2019
Description
ASID Tennessee 2019 State Conference
"Inspired by the Past, Designing for the Future"
It is with great pleasure ASID Tennessee invites you to attend and participate in our annual State Conference for 2019! This year the conference will be held at two locations!
Scroll for detailed schedules and course descriptions!
For questions or to pay by check, email our chapter administrator Amy Breedlove (asid@asidtn.org) T (629) 255-0870 | F (615) 296-9980
---
(skip the convenience fees, submit registration by mail or email)
---
Thursday, October 10th | Rocketown
601 4th Ave S, Nashville, TN 37210
An evening with vendor show / cocktail hour, dinner, keynote speaker, and chapter awards.
Friday, October 11th | Tennessee State Museum
1000 Rosa L Parks Blvd, Nashville, TN 37208
A half day including (2) CEU's, and museum tour.
---
THURSDAY SCHEDULE - Rocketown
3:00 PM – Vendor Show & Cocktails
6:00 PM – Dinner / Keynote Speaker, EOA Architects
(works include TN State Museum, The Pinnacle Building, and Bento Nashville)
7:00 PM – Chapter Awards
After Party Immediately to Follow!
FRIDAY SCHEDULE - TN State Museum
9:00 AM – Registration / Light Breakfast
10:00 to 11:00 AM – CEU #1, Smart Bathrooms
11:30 AM – Lunch
12:00 to 1:00 PM – CEU #2, Mindfulness
Walking tour of museum with introduction by EOA Architects immediately to follow.
---
COURSE DESCRIPTIONS
CEU #1 SMART BATHROOMS / How Material Science & Technology Are Advancing Bathroom Design
Speaker Mike Socha, Duravit
LU/HSW, IDCEC Course # 106884, AIA Course #DU105
Well-designed bathrooms with high-quality materials and smart technology provide numerous advantages for users, whether in luxury residences or commercial buildings. This course will discuss high-quality, innovative bathroom products and their advantages, including occupant well-being, safety, accessibility, sustainability and increased home values. The course will also cover the four activity areas in the bathroom in relation to material science, technological advancements and smart design.
Describe the advantages of well-designed bathrooms and
high-quality bathroom products
Examine how material science and technological advancements
contribute to smart bathroom design
Understand how innovative materials and technological advancements
are utilized in the four activity areas
Explore the four activity areas in a bathroom and how technology
is making them better
CEU #2 MINDFULNESS
Speakers Amanda Frisbee, A&D Regional Manger Sunbrella & Glen Raven, Glen Raven Custom Fabrics
LU/HSW, IDCEC, Course #107131
Discover the physical and mental health benefits of mindfulness, and how to plan and design commercial spaces that encourage mindfulness to improve worker health and productivity. Earn 1 AIA/CES Learning Unit (LU)/Health Safety Welfare (HSW) and 1IDCEC Continuing Education Unit (CEU)/ Health Safety Welfare (HSW).
The physical and mental health benefits associated with mindfulness
How to become more mindful
Which companies are providing mindfulness training and practice to their employee
How to incorporate mindfulness into your own work environment
How to incorporate mindfulness into your designs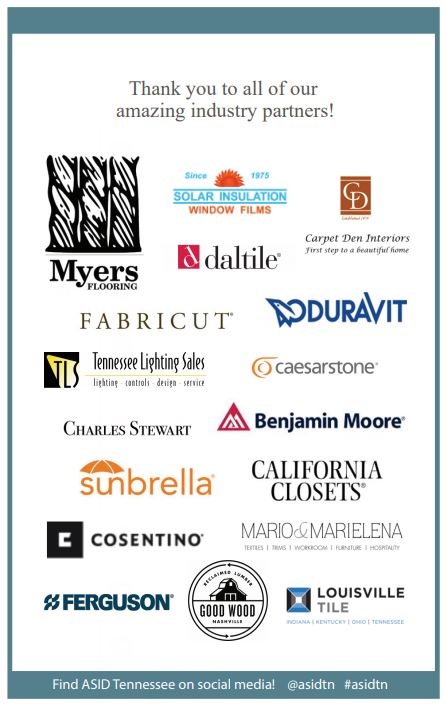 Want to be involved in the planning or promote your business?
Join the official Conference Committee or reach out for available sponsorship opportunties!
Available Subcomittees:
Programming, Speaker Coordination, Sponsorship
Open to ALL statewide!! Out-of-town members a able to conference in for each meeting up to the event.
Please email asid@asidtn.org if interested.