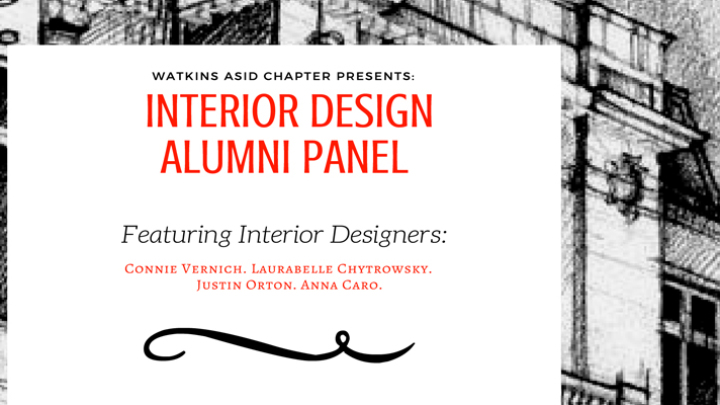 Nashville: Interior Design Alumni Panel
Description
Join fellow interior designers for a special event featuring a panel discussion with Watkins Interior Design alumni, moderated by current interior design student Renee Johnson.

There will be a wine and cheese reception prior to the panel discussion to mingle with other Nashville interior design professionals.

The panel begins at 7 p.m. in the Watkins Theatre!!

Please RSVP to: rmjohnson@watkins.edu
Anna Caro:
Graduated in 2017
Worked with Connie Vernich
Now has started her own Interior Design Business called Motiv Interiors
Laurabelle Chytrowsky:
Graduated in 2016
Works at Nashville office interiors as Interior designer
Justin Orton:
Graduated in 2011
Worked at studio 121 as Interior Designer and Project Lead
Now own's company called Of Origin Design Studios
Connie Vernich:
Graduated in 1998
Taught at Watkins for Historical Architecture
Now has her own company called Connie Vernich Interiors